ON LINE SERVICES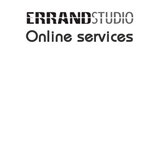 Music production, mixing and mastering services are available on line.
Creation of an unreleased track:
Attach a demo of your song via e-mail to errandstudio@gmail.com or through WeTransfer, even an mp3 track with guitar and voice. You will be contacted to decide the stylistic approach you want for your song.
You will listen to the previews and keep you in touch with us during production.
Creation of an edit track:
Send us an mp3 of the original song you want to be made. Write us  title and artist.
If you want the song to be made in a different key, remind us.
Mixing
You are an artist, a creative musician. You have just finished recording your songs in your home studio. Do you need professionals for mixing? Contact Errand Studio:

How to export your tracks before mixing.
Download our tutorial
How to export your tracks before mixing
Documento Adobe Acrobat
64.6 KB
We offers two different mastering services:
Easy mastering: the basic service, the mastering of the stereo track properly exported.
Stem mastering: is a technique derived from stem mixing. Just like in stem-mixing, the individual audio tracks are grouped together to allow for independent control and signal processing of each stem and can be manipulated independently from each other.
Previews and delivery:
The

final tracks

are exported

in the required format

(WAV

, AIFF

, 44.1

KHz

or

48kHz/16bit

or

24bit

)

and loaded into

our

dropbox

or sent via email, if

you wish to receive

a

CD master

,

the

cost for burning

and shipping

via

registered mail

is

€ 10.
The audio files will be

loaded

or shipped

as soon as

we receive

confirmation of your payment

via

PayPal.
During work

we will send

previews

of

the mix or

the mastering

in order to

correct any

stylistic choices

you don't like

.